The Film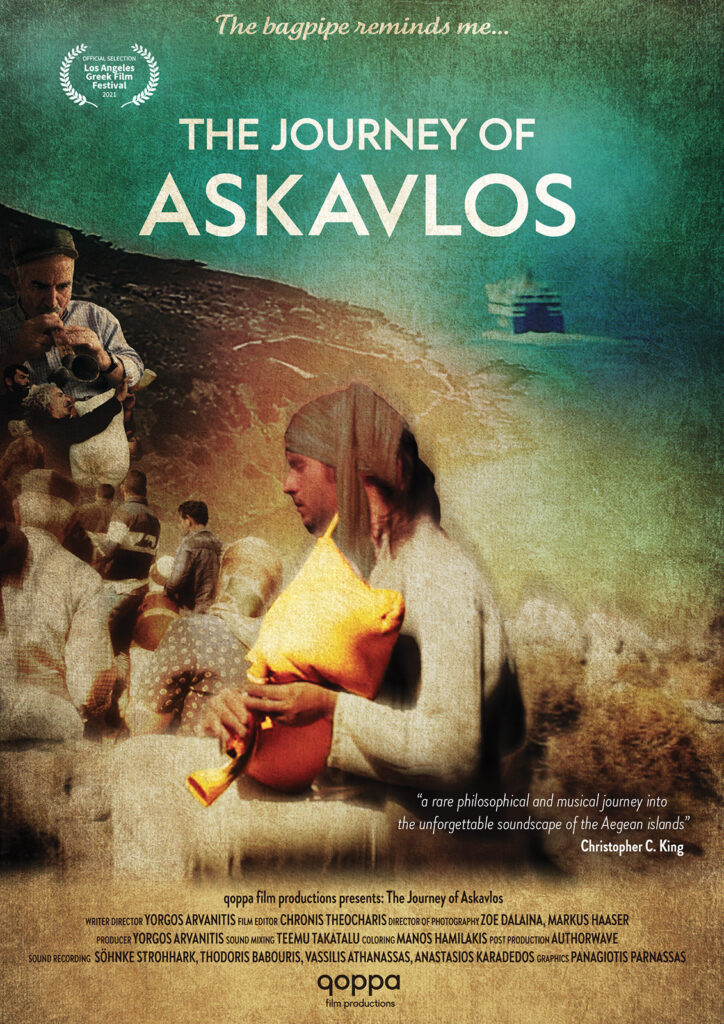 The Journey of Askavlos
Produced by: qoppa film productions / Yorgos Arvanitis
Written, directed by: Yorgos Arvanitis
Edited by: Chronis Theocharis
Director of Photography: Zoe Dalaina, Markus Haaser
Ethnomusicological Documentary
Language: Greek with English subtitles
Duration: 88 Minutes
Shooting time: 2010-2019
Year of Completion: 2020
Logline
A journey through the Aegean Sea, where old meets new, and Askavlos, the ancient Greek bagpipe, is being revived in the hands of musicians, dedicated to restoring and maintaining an ancient tradition. The instrument slowly but surely finds its way to the city, where modern musicians bring it into the contemporary music scene.
Synopsis
Following the ancient Greek bagpipe, "The Journey of Askavlos" takes the viewer on a fabulous journey from stone-built villages, where the instrument's origins lie, to the concrete jungles of modern towns and cities. On this journey the viewer meets authentic practitioners of an ancient tradition, as well as young musicians who are discovering it at the moment of its decline. Together, they bring it into the present, reviving it and keeping it alive.
He also becomes a witness to this revival and, alongside the protagonists, discovers a thing almost lost: the customs and an ethos of a people of another era, and an oral tradition that was once a way of life, preserved over the centuries. The viewer also sees how the Askavlos is being assimilated by the contemporary music scene and is integrating with modern sounds, beyond the realm of traditional festivals, thereby gaining a younger audience and enjoying great resonance around Greece and the world.